In northern Peru, on the banks of the Amazon River, lies the city of Iquitos. Even if it's the biggest city in the Peruvian Amazon, it cannot be reached by road, only by boat or plane. Here in Iquitos, UNICEF is implementing an early childhood development training program for workers who provide services to young children in health, education and protection. The program promotes parental involvement in early learning for all children but especially those with disabilities. Early care is key to give children the best start in life, and to enable them to reach their full potential. This is even more important for children with disabilities. The UNICEF program is supported by H&M Foundation and is part of a global initiative.
On a bustling street in Iquitos lies the house of the Flores-Careajano family. The family consists of Rusbel Careajano, 52 years, Linda Flores, 37 years, and their three children Valery, Jimmie and Patrick. Rusbel works as a tuk tuk taxi-driver and Linda is a housewife. Valery, 1.5 years, is the youngest in the family. She is constantly smiling and it's obvious that she has the family wrapped around her little finger.
In August 2017, Linda gave birth to Valery at the regional hospital in Iquitos. As soon as she was born, Valery was diagnosed with Down syndrome. Linda and Rusbel felt misguided by the nurse and paediatrician and thought that Valery would never walk, lift her head or interact with them. Having no experience or knowledge of Down syndrome, Linda at first felt ashamed of having a baby like Valery.
"I took the baby and put her on the bed and looked at her and I couldn't help but cry and I asked why? Why me? In my ignorance, I rejected my daughter.
"Valery means everything to me. I love her very much."

Linda Flores, Valery's mom
Linda is very emotional when she continues: "Yes, I rejected her. And the truth is, I begged her forgiveness. She's my happiness, she means everything to me. I love her very much".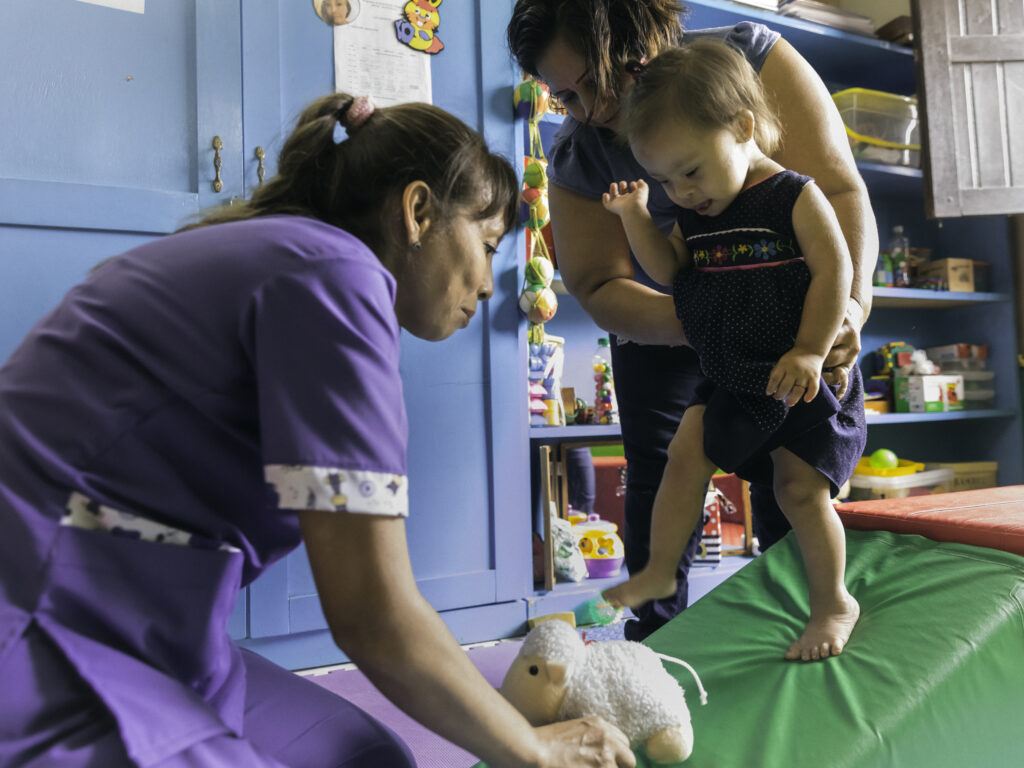 They have come a long way since that day at the hospital. They attend the UNICEF-supported PRITE, a center that provides services for young children with disabilities or at risk of acquiring one. The center focuses on early childhood development and the importance of parent participation. The sessions aim to maximize learning and include parents so that learning can continue at home. The center also brings families of children with disabilities together, so they can share experiences and make new friends.
"We've been going to the PRITE since last July. I have seen a lot of progress in my daughter. When we arrived there, she couldn't sit up", Linda says.
Rusbel fills in: "She has learned to sit up, she has learned to say "Papa", she says "Papa"!
I see her progress and I feel proud and happy for her. I'm very thankful to the PRITE. And she is showing great progress. I'm happy that she can fend for herself.
"Walking, clapping, shaking hands… listening to you, calling you, kissing you, all of that Valery learned. And I'm very grateful for that."

Rusbel Careajano, Valery's dad
Linda says that what she and Rusbel learn at the PRITE they practise at home with Valery. They both understand that what they are learning will bring them closer to making their dreams come true. As parents they want to raise Valery so that she can take care of herself and live an independent life.
Linda concludes: "That's what I want for Valery. That she becomes a grown woman who can take part in society, with a desire for a full life, not only as a girl with Down syndrome"