The use of automation and digital technology is making its way into the textile industry, also creating a risk of unemployment for millions of Bangladeshis. Women are particularly at risk, as they represent the majority of the total workforce within the garment industry and are often employed to execute the tasks which are highly susceptible to automation. There is an urgent need to create a skilled female workforce to save jobs and create new job opportunities.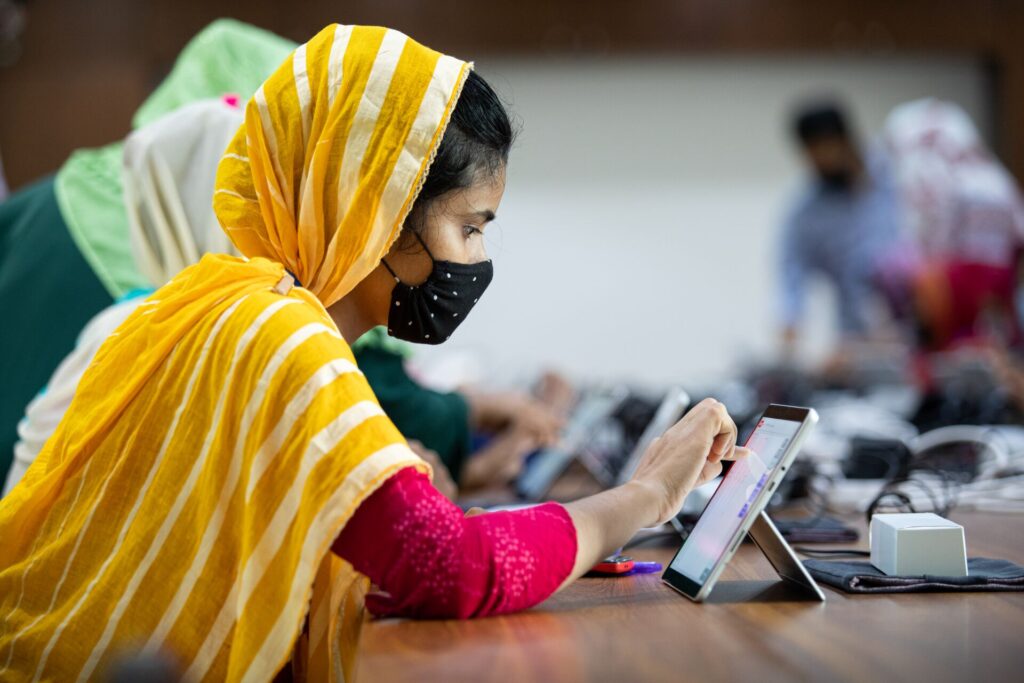 Collaborative skilling programme
Following up on the urgent needs of women garment workers, related to Covid-19, by donating 17,9 million SEK (1.6 million USD) to WaterAid, Save the Children and CARE, the H&M Foundation has taken on a long-term approach to equip women garment workers for a future defined by automation.

A first step in this has been to focus on upskilling and training to equip female garment workers with critical skills required for managerial and sophisticated machine-operator roles. Our skilling programme has had three components: soft skill training, hard skill training and perception change.

Shimmy Technologies has been contributing with so called hard skill training. By developing video game-based skill trainings, they helped women garment workers enhance their skills to become multi-machine operators and digital design workers.
CARE has been focusing on giving soft skill training, referring to inclusive and gender responsive HR and management practices to support current and future needs of women's career progression. Included in the soft skill training were also training on e-communication, digital skills, advanced problem-solving skills, planning and organizing skills.
BBC Media Action has contributed with improved perceptions and reduced levels of bias among factory owners and executives. They were focusing on increased self-confidence among female garments workers and more supportive attitudes within families and communities, together contributing to an increase in the proportion of women in supervisory and machine operator roles within the Bangladesh RMG sector.
The ambition was to follow up and integrate these types of components into a larger holistic programme, covering multiple aspects of the lives of women garment workers. In October 2022, the initiative Oporajita – Collective impact on future of work was launched.
In addition to all of the above, our commitment to futureproof the female workforce in Bangladesh has also included an innovation challenge focusing on human-centered innovation and forecasting the future of the RMG industry in Bangladesh.