Even though the majority of the clothes we wear are made of blend materials, in 2016 when we launched this program, there was no method available that could fully recycle these garments into new ones. However, to reach a fully circular fashion industry – recycling methods for blend textiles are key.
"The Green Machine is a technological milestone as well as an economical one. We are close to not only recycle blend textiles at scale but also making it affordable for all, killing the myth of sustainability being a costly compromise. We can't settle for less if we're serious about stopping climate change."

Erik Bang, Innovation Lead at H&M Foundation
Therefore, our main focus for the Recycling Revolution program with HKRITA was to find at least one commercially viable method to recycle blend textiles at scale.
Recycling with no quality loss
The work began in 2016 and only a year later Kanji Kanjiwara, professor at the Faculty of Textile Science and Technology at Shinshu University, and his team reached a milestone when they discovered a hydrothermal method that had the potential to change the game completely. We call it the Green Machine.
The Green Machine:
Uses only heat, water, pressure and a biodegradable green chemical.
Is cost effective and time efficient.
Generates no secondary pollution since it's a closed loop where the water, heat and chemicals are used again and again.
The output is long and good quality polyester fibres which can be used to make new garments. The cotton is extracted as cellulose powder, which can be used in multiple ways. In our new program with HKRITA called Planet First, we are trialing making new clothes out of this powder, as well as using it to improve cotton farming.
From pre-industrial to industrial scale within a year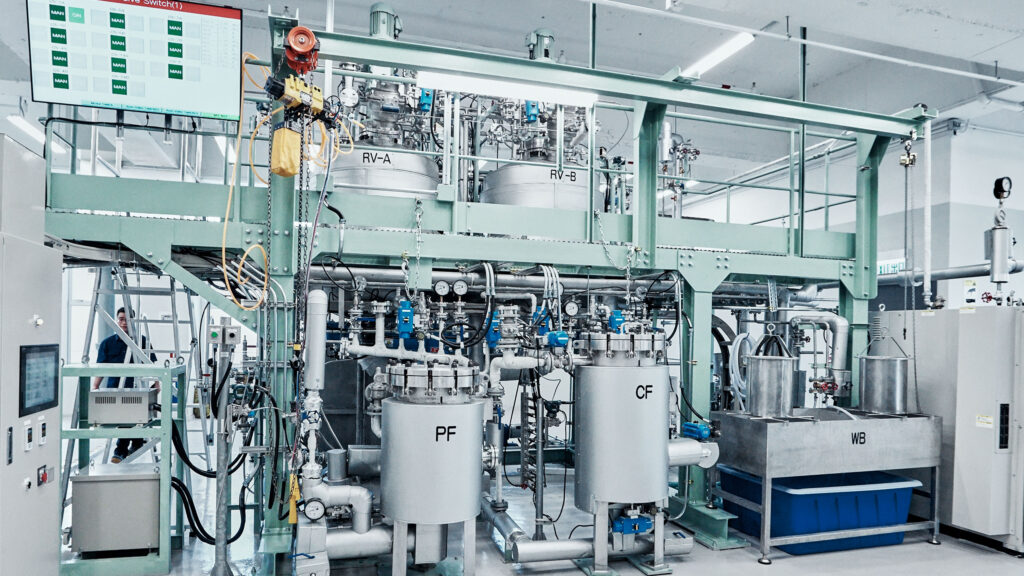 In September 2018, the first Green Machine opened in Tai Po, Hong Kong. It's a pre-industrial sized facility, which purpose is to invite fashion brands and stakeholders worldwide to see, test and implement this technology within their own operations.
"Nobody takes innovation seriously until you scale."

Edwin Keh, CEO of HKRITA
Built at full scale in factory in Asia
In 2019, another milestone was reached when a contract was signed with Kahatex, the largest textile manufacturer in Indonesia, who are forward-thinking and were willing to invest in this technology.
The Green Machine will be ready to be put in use by early 2021. The first year we expect to adjust and improve the system, once up to speed – we expect it to handle about 1.5 tonnes of textiles per day. Built in a modular system, the Green Machine is flexible and can be easily put on most factory floors.
In 2020, fashion brand Monki released the world's first collection from the Green Machine. And we hope more collections will be launched and more Green Machines will be built. The Green Machine is licensed by HKRITA at price that only covers their costs, they will not make any profit on it. We do this since we believe this is the best way to reach maximum impact in the fashion industry.
Milestones
2016 – The collaboration with HKRITA started and we set the ambitious goal to find at least one commercially viable method to recycle blend textiles at scale.
2017 – A breakthrough was made when the hydrothermal method was discovered by Japanese engineers at Shinshu University.
2018 – A pre-industrial sized system opened in Tai Po, Hong Kong and brands and other stakeholders were invited to see, test and hopefully implement this technology within their own operations.
2020 – The H&M Foundation and HKRITA signed a contract with Kahatex, a large supplier in Asia who will build a real-size Green Machine in its own facility. Monki releases the first collection made from the Green Machine technology, made at the smaller system in Hong Kong. A small scale pilot on cotton farming using the cellulose powder that is one of the outputs from the Green Machine is done, the results are promising and a larger pilot will be undertaken in 2021.
2021 – The hydrothermal recycling facility will be ready to recycle a couple of tonnes of blended textiles per day – a major step towards recycling blend textiles at scale.