Cotton is certified, recycling is on the rise, value chain processes are improved – but it's not enough. We need to look at the whole system and explore how it can be changed from the bottom up.
The Planet First program aims to find planet positive technologies that will not only focus on circularity and climate change, but also consider all aspects of earth's natural support systems: Land, Water, Ocean, Climate and Biodiversity. As these systems are deeply connected, we simply cannot address only one as they impact each other.
"We don't know what a planet positive fashion industry will look like, no one does. This goal is directional and requires innovation and thinking outside the box in every step of the fashion value chain."

Erik Bang, Innovation Lead H&M Foundation
Planet First is a visionary scale up from our previous collaboration with The Hong Kong Research Institute of Textiles and Apparel (HKRITA), named the Recycling Revolution (2016-2019). "This goal is directional and requires innovation and thinking outside the box in every step of the fashion value chain. By signing up for five more years with HKRITA, we not only dip our toes but take the plunge with this partnership to figure this out, and we look forward to making the Planet First program a revolutionary one," says Erik Bang, Innovation Lead at H&M Foundation.
Raising the bar
The ambition of Planet First is to find technologies that can contribute to a planet positive fashion future. This means not only minimizing or eliminating the negative impact fashion can have on the planet but adding environmental benefits to the planet through the processes and actions taken in the value chain.
We don't have a roadmap as we are building the roads. I think it will be exciting."

Edwin Keh, CEO at HKRITA
The program is guided by speed, scale and impact:
Speed – we are conducting applied research and present developments along the way to get feedback to improve and progress faster.
Scale – we target the biggest pain points and partner with industry from day one to ensure quick scaling of solutions.
Impact – we give away all our findings and technologies to maximize the impact of our work.
"Some claim that making the fashion industry planet positive is a naïve idea. And while it is true that no one has gone planet positive before, this is the only way we are going to reach the UN 2030 Sustainable Development Goals. This is about changing the direction. We are working on bigger disruptive projects now and it is more difficult, we don't have a roadmap as we are building the roads. I think it will be exciting," says Edwin Keh, CEO at HKRITA.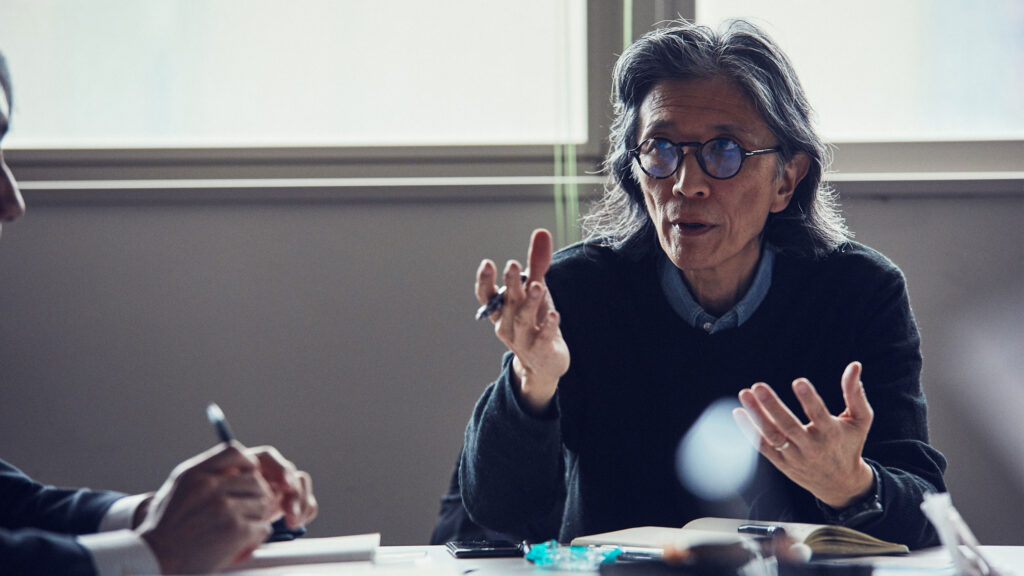 Projects within Planet First
The portfolio of projects is changing and developing, below are some examples of what we are working on now.
Cellulose powder improving cotton quality
This is a spinoff from the successful Green Machine developed in 2018, by HKRITA and H&M Foundation. The cellulose powder generated from the Green Machine is clean and toxic-free. We are currently investing two applications of the powder: making new garments and improving cotton farming.
Together with Japanese fiber producer Daiwabo Rayon, the HKRITA research team are piloting making regenerated viscose fibers out of the cellulose power from the Green Machine, to be able to make new garments. Some prototypes have already been made.
Moreover – as a lucky unintentional consequence – the powder with its superabsorbent characteristics could be interesting for farming purposes.
India is one of the largest producer of cotton in the world, and contrary to what many think, most cotton is grown by really small scale farmers. However, the quality of the cotton is often lower than in other countries, meaning the farmers are paid less for their cotton. Together with Shahi, one of India's largest apparel manufacturer, a small pilot with cotton farmers was undertaken in 2020.
By mixing the powder in the soil surrounding the cotton plants, the soil absorbed water more easily. As the plant remained healthier, the quality of the cotton fibers was improved and the harvest increased by 20%, while the need for irrigation was reduced saving water for the local communities.
"Across all replications, the plants with the superabsorbent powder had a higher yield compared to the control lines," says Anant Ahuja, Head, Organizational Development, Shahi Exports. "There are other similar synthetic crop products, but we haven't come across anything that is as eco friendly as this," says Anant.
Half of India relies on agriculture, and as the weather becomes more unpredictable these findings could play a major role for Indian cotton farmers, and for communities nearby that are dependent on water.
In spring 2021, Shahi and HKRITA plan to run a larger pilot to test this on a bigger scale.
Garments capturing CO2 from the air
What if textiles could sequester CO2? This is another topic for research which has already resulted in a prototype. As a consumer, you could potentially help decrease carbon dioxide in the air by simply wearing these clothes.
Bridging the gap through a Planet Positive Lab
A third example of the Planet First program is a first of its kind open factory where innovators, researchers, suppliers and brands can meet, test new ideas and scale faster. By doing this, the program partners are offering a solution to one of the pain points for innovators today – access to equipment and the industry. The lab will be opened in Hong Kong. More information will follow in 2021.
Most ambitious program in fashion industry
The H&M Foundation is donating USD 12 million (SEK 100 million) and the Hong Kong Government's Innovation & Technology Fund gives additional funding based on our donation under existing funding mechanism, which results in a total estimated budget of USD 100 million over five years.
"To our knowledge, this is the most ambitious program in our industry to move the needle in this field."

Edwin Keh, CEO of HKRITA