"I have never run a tablet like this, and I have never used a touch phone," says Nazma, one of the sewing operators who's received training in digital technology at AKH Knitting & Dyeing Factory, a garment manufacturer in Dhaka, Bangladesh.
Nazma is part of a cohort of female garment workers in Bangladesh who have been participating in upskilling workshops as part of a our initiative to back female garment workers in Bangladesh. The increasing use of automation and digital technology means millions of workers — including women like Nazma — risk losing their jobs in the near future. This is especially true in Bangladesh, where the ready-made garment (RMG) sector is one of the largest contributors to the country's GDP, and where four out of five of the industry's unskilled workers are women.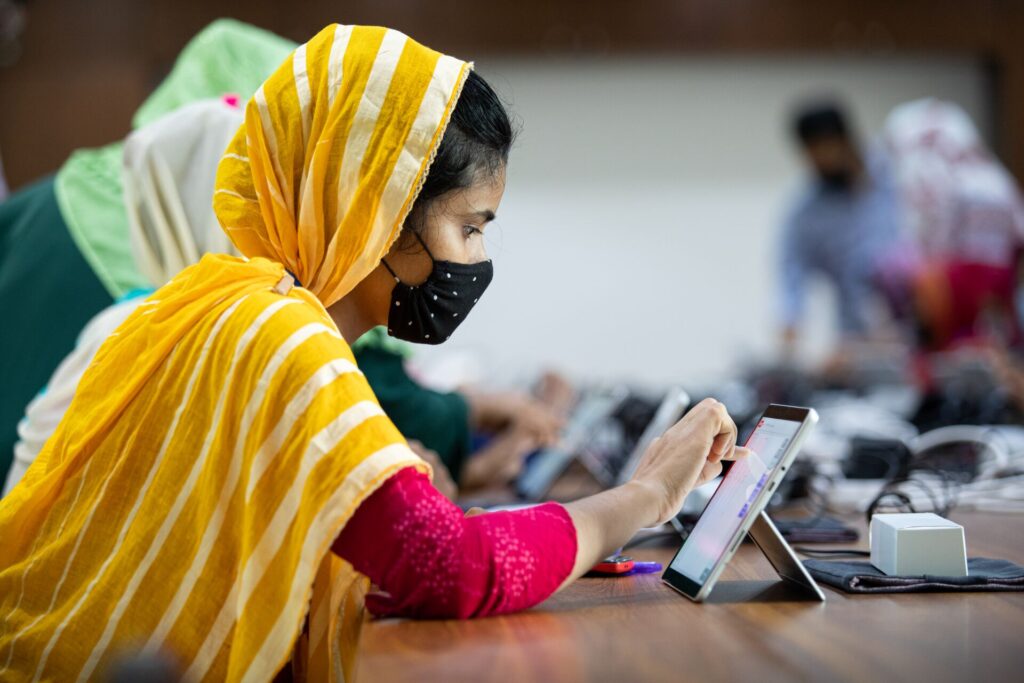 As a result, the H&M Foundation has worked to provide "soft-skill training," such as problem-solving, organization, and e-communication. But also so called "hard-skill training" in digital technology so female employees can be promoted to managerial roles or multi-machine operators.
For Shoma, another employee at AKH, the training she received as part of this initiative has alleviated anxiety over losing her job.
"From now onward, the methods taught to us that we will have no worries when it comes to working. We can work on what we have learned. There will be no fear in the mind."

Shoma
As the first woman in her family to be employed outside the home, Shoma says working at the garment factory has given her a sense of independence, dignity, and voice — in addition to helping her provide financial support for her household.
The digital gender divide is one of many ways that girls and women are held back from achieving their full potential and fully participating in society. According to the UN's International Labour Organization, the rate of participation in the global labor force is only 49% for women compared with 75% for men. Bridging the gender gap in the STEM fields (science, technology, engineering, and mathematics) is a crucial way for girls and women to expand their employment opportunities. Only 35% of STEM students in higher education globally are women, according to the United Nations Educational, Scientific and Cultural Organization (UNESCO). Gender bias prevents many girls from entering these fields. In fact, the United Nations Children's Fund (UNICEF) found that 70% of people surveyed across 34 countries associate STEM fields with men.
In Bangladesh, where much of the female labor force is employed by textile and garment factories, we are working to empower the next generation of female garment workers through education in technology and communication. For both Nazma and Shoma, access to education and technology has given them a better understanding of their value, their potential — and their rights as women and employees.
This story originally appeared on equaleverywhere.org. H&M Foundation is a proud supporter of #EqualEverywhere.